Welcome to skincare 101. If you're baffled by bottles, lost by lotions and potions, and feeling you need a degree in chemistry to understand the beauty products you see in the bathroom cabinet, we're here to help. And we're starting with the one essential you should be using. Say hello to a daily moisturiser – twice daily, actually, in the morning and before bed. Still sceptical? Here's why you should spare a few seconds for this habit.
Well, let's look at what it says on the tin. It moisturises, aka it keeps your skin feeling hydrated – like giving your face a drink of water. And, no, you can't just chuck a glass of water at your face – that's not how skin works. Think of your face as paint on a car – over time it gets cracked and brittle, and what's underneath isn't protected. In the same way, if you leave your face to dry out, you'll find it soon becomes sore, chapped and lined. Moisturiser gives you a coat of protection, which is essential for anyone who shaves regularly or spends a lot of time outdoors.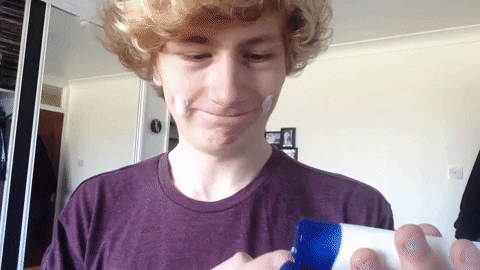 How do I know which one to buy?
Before you go in store, you need to know what skin type you are. Here are some hints and recommendations.
This means your skin can be red and sore, it sometimes stings when you put products on it, and it becomes inflamed after shaving.
Your prescription: Avoid anything fragranced or containing alcohol. Superdrug Men's Grooming 24-Hour Hydrating Moisturiser is created especially for this skin type, and is soothing and non-sticky.
This can be a bit flaky, it feels a bit tight after washing and never looks shiny. You tend not to suffer from breakouts.
Your prescription: Vitamin E is great for dry skin, and Nivea Men Intensive Moisturising Cream has heaps of it.
You can look quite shiny, especially in the T-zone (across forehead and nose). You might have a few blackheads and the odd spot.
Your prescription: You might think you don't need more moisture if you're already oily. WRONG. A moisturiser specifically for oily skin will help balance skin out. Choose a mattifying one like L'Oreal Men Expert Pure & Matte Moisturising Gel if you want to banish the shine.
A little bit of shine/oil across your nose, but cheeks and chin feel soft to the touch.
Your prescription: For you it's more about preference. You can choose between gels and creams, or go for the added extras of anti-ageing or anti-fatigue. A good everyday product to start with is Bulldog Original Moisturiser.
You've started to notice a few fine lines on your forehead and around your eyes and quite frankly, you're keen to put a stop to 'em.
Your prescription: It's time to get a little serious with your skincare. Look out for thicker, creamier textures with added SPF (the sun's rays are responsible for most of the signs of ageing) and anti-ageing ingredients. B. Men Firm Anti-Ageing Moisturiser is affordable and effective - it's formulated with Coenzyme Q10 – antioxidant protection whilst reducing the depth of wrinkles - so spot-on for adding to your anti-ageing arsenal.