Although Gen Z yellow is major this season, the fluorescent yellow tennis ball vibe isn't giving us a lot of makeup inspo. However, what's the next thing (after tennis, obvs…) that comes to mind when you think of Wimbledon? How about strawberries and cream, ding ding ding? You're absolutely right. So if you're looking to get glam for the grand slam this weekend, a mix of pink and berry tones will get you in the spirit and ace your Wimbledon makeup look.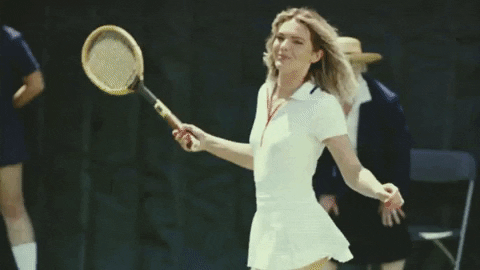 To make a statement with your look, you've gotta decide whether you're gonna go for pout or peepers. If the eyes have it, a wash of bright pink on the lids and dramatic falsies will inject some Wimbledon-themed fun into your look.
The Revolution Pro Regeneration Eyeshadow Palette in Mischief Matte has lots of pink and berry colours, so you can play with different shades and intensities. If you're going for statement peepers, apply a wash of pink all over your lid, blending it right up to the brow bone. For max impact, take that shade down onto your lower lash line and smoke it out. Deepen the inner corner with a darker pink tone, then add Eylure Definition False Lashes in No 126.
That's the strawberries covered – now for the cream. This part of the look is all about the highlights. Dust some e.l.f. Baked Highlighter in Moonlight Pearls on your brow bone and the tops of your cheeks to make it all pop.
photo: Instagram @indikos
For us strawberries and cream mean a flawless ombré lippy. If you want your pout to be the main attraction, this is defs the look you need to go for. A shocking yet stunning gradient from light pink to deep burgundy is a great way to get with the strawberries-and-cream theme.
Start by applying Rimmel Stay Satin Liquid Lip Colour in It Girl to your top lip, then swipe the red shade (Redical) onto your bottom lip. To get the right colour blend on your top lip, put some Redical on your index finger, tap off the excess on the back of your hand and push the pigment into the area where your mouth opens. Finish with Have A Cow on the bottom of your lower lip and, again, use tapping motions with your finger to blend the burgundy shade into the brighter red.
photo: Instagram @jayblissy