Summer has (finally) hit the city! Cue lunchtimes in the park, picnics at weekends and hot lazy days spent sun soaking. It all sounds brilliant, doesn't it? Well, if you can lounge around outside with mates it's easy-breezy, but what about when you're slogging away Monday to Friday? Or getting squished by commuters on public transport? That tempting summer fantasy fades pretty fast and is replaced by a very sweaty reality…
One of the main probs is what to do with hair when you're too hot to care. We know that speed is everything in these situs, and the easier, the better. That's why us girls at Team DARE have rounded up our no-fuss styles that are gonna see you through the summer. Whether your hair's long or short, straight or curly, we've got your back – and neck! – (un)covered.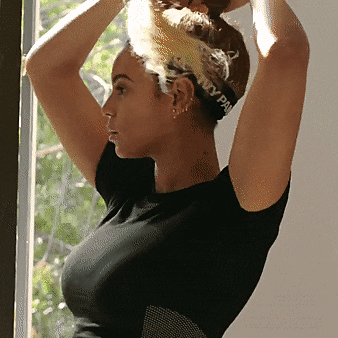 I woke up like this… Junior digital writer Chloe
My hair can be the bane of my life at the best of times. It's unpredictable, with a mind of its own, and seems to do the exact opposite of what I want it to – a bit like me when I was 16. The volume of my hair gets amped up when the temperature rises, and getting it off my neck AND looking good is near impossible when I'm on the go. Enter the laziest hairstyle of them all – my I-woke-up-like-this bun. It's all in the name with this one. Pop your hair in a bog-standard bun before bed, and you wake up with just the right amount of casual messiness. Your hair's off your back and you get to skip a step in your morning routine. Winner winner chicken dinner!
YAS hun… Junior beauty writer Mollie
Since getting my hair cut short, it's been pretty much faff free. However, with the combo of the heat and my extremely sweaty tube journey (steer clear of the Jubilee line past 5pm, y'all), it can end up defying gravity and going outwards. Now, as you can imagine, when your hair is short, this is the last thing you want, unless you're Sideshow Bob. That's why my go-to hairstyle for such occasions is the ever-so-humble hun, which requires minimal effort. Just use a comb to push your hair backwards, then separate the top section from the bottom and tie in a messy bun. It keeps the hair off your face and looks effortlessly cool.
Boho braid… Junior designer Zahra
A neck-baring hair crop is the perfect solution for a 30°C day, but with almost a decade of growing under my belt, I'm not going to be reaching for the scissors just yet. The solution is an updo to tame my sweaty mane. Just sweep your hair into a side plait, leaving some strays at the sides. Once plaited, weave in the random stray hairs – and voila! The style is one for the hot weather hairspiration bank, as it reduces the weight of my long hair and keeps me feeling cool – both in temperature and looks.
These styles are super simple, but there are a few things you should always carry around to make your life a lil easier.
Perfect for keeping everything in place.
After a little more volume in your style? Some dry shampoo in the roots will sort you right out.
If your curls aren't looking tip top, a spritz of this will see you right.