Whether you've joined the silver-hair squad or you're more of a balayage gal or guy (that's hand-painted highlights to you and me), when it comes to colour – especially at the hands of the bleach bottle – sometimes things can go a little brassy. And no one wants that, do they? Nuh-huh, honey... What you really need is a little purple shampoo in your life.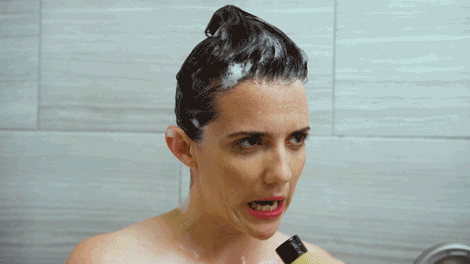 It might sound all sorts of strange, but purple shampoo helps to neutralise brassy tones. How? Think back to art class – no, not flirting with the high-school hottie – think colour-wheel theory. If you wanted to neutralise your yellow poster paint, you'd mix in some purple, right? It's the same sort of principle with purple shampoo. Our hair is porous, especially after being coloured, which means it absorbs the purple pigments to help correct harsh, yellow tones. In short, it's a sort of at-home toner, which avoids a spenny salon treatment to keep your colour looking freshhhh.
How do you use purple shampoo?
In pretty much the same way you would the ordinary stuff. Rinse hair with warm water, which will help open the cuticles to get those purple pigments in deeper, then lather up and leave on hair for five minutes (or however long it says on the bottle – we can't do everything for ya). Rinse out and use your go-to conditioner to finish.
How often should I use purple shampoo?
For more class, less brass, start using purple shampoo a couple of weeks after your dye job. Then use it twice a week – every other wash – to keep hair looking tip-top. And you don't need to worry about overdoing it. If you're not happy with the colour, just rinse and rinse, and the purple pigments will wash out.
What are the best purple shampoos?
L'Oreal Paris Colorista Silver Shampoo
Leaves hair feeling silky smooth while restoring blonde to its former glory. Perfect for those who have just a few highlights.
PRO:VOKE Touch of Silver Brightening Shampoo
This is designed to be used twice a week and will last you a while. You'll notice the difference after just one wash. It also works wonders on grey hair.
Bleach London Silver Shampoo
The masters of colours, Bleach London has poured TLC into this formula. Enriched with vitamin B5 and wheat proteins, it hydrates while knocking red and yellow tones into touch. This is the one to pick if you've gone for that peroxide-pixie look.
Hair Xpertise Argan Blonde Silverising Shampoo
This super-sudser with UV filters adds gloss, colour and tone, keeping your bottle blonde looking its best. If your hair is on the dry side, the argan oil will help recondition it.